In this edition, we are pleased to introduce a young dynamic Singaporean living right here in Melbourne, Miss Christine Teo.  Christine is a social worker, human rights advocate, business owner and founder of Generation 414, a social enterprise created out of Christine's passion and work in the area of helping survivors of sex trafficking in Asia.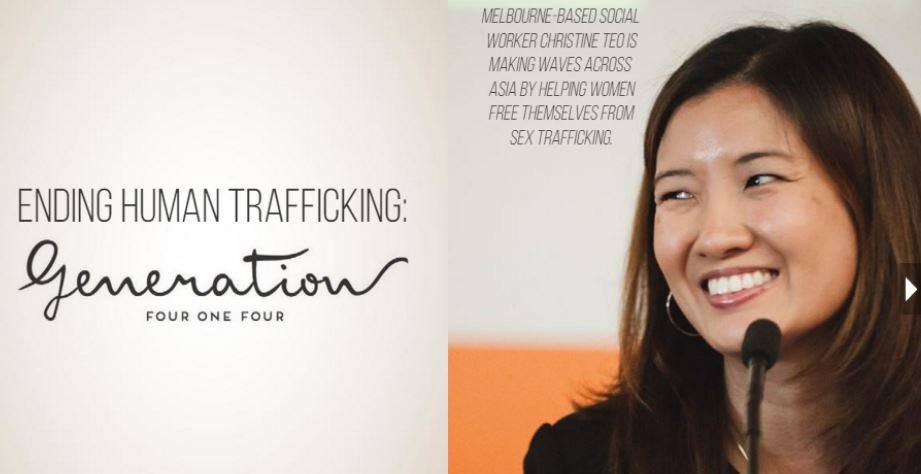 On a mission to end modern day sex slavery, Christine set up Generation 414, a 100% organic, ethical, fair trade online store and human rights initiative that sell handmade products by women who have been rescued from sex trafficking in countries like Thailand, Myanmar and Cambodia. Founded in 2015, Generation 414 was born from Christine's experiences during a three week holiday around Asia in 2012 where what she saw and experienced deeply affected her. Her anguish drove her on her return to do something about this problem rather than choose to look the other way.  Christine went on to gain real ground experience working at A21 Australia, an anti human trafficking non-profit agency for a period of time as its Asia Development Manager.
Generation 414 is more than just an online store, it is a social enterprise that works in partnerships with charities like Nightlight International to raise funds, and involvement in projects like building a 'transition' house in Myanmar as well as supporting mental health awareness campaigns in Australia.  In addition, Generation 414 endeavors to raise awareness of this social issue by conducting talks in the community. Christine was recently featured in The Australian Times 'Tat Girl' magazine.
When Merlion Club met up with Christine to find out more about the work she is doing, we were impressed by her energy, enthusiasm and passion.  Christine is driven by the belief that if we wish to see change in the world, we need to make that change, and we can all make that difference even if they are in small steps and small ways.