Singaporeans in Victoria – Kuan Kan
Behind his quiet, friendly and unassuming personality, Kuan is a successful entrepreneur and philanthropist. Here at Merlion Club we are deeply appreciative of the support that Kuan has given the club over the years.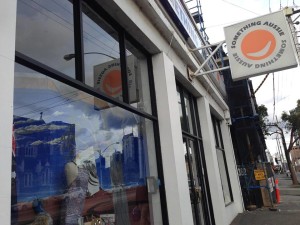 What started out as helping friends and relatives visiting Melbourne source for good Australian souvenirs, Kuan's interest and hobby has led him to open the largest store in Melbourne selling Australian souvenirs and gifts.  'Something Aussie' is located at North Melbourne and sells a wide range of Australian products. You will be amazed at the sheer size of the store and product range available. 'Something Aussie' stocks not just souvenirs but also Aboriginal art and craft, beauty and skincare products, unique jewellery and food products like high grade honey, macadamia nuts and abalone. In fact the shop stocks and supports the work of many Aboriginal artists and offers for sale (with a percentage going back to the artist) their paintings, ceramics and handicrafts.
Something Aussie' is the place to discover that quirky souvenir, aboriginal artwork or just a postcard – all at competitive prices starting from $2. So the next time you have friends or relatives visiting, why not bring them down to 'Something Aussie', your one stop shop where you will definitely be able to find the right Australian product with a friendly service. 'Something Aussie' is located at 400 Victoria Street, North Melbourne