This is where you can find the best Singaporean hawker food in Melbourne city area. Bring back those old memories with the taste of your favourite childhood dish. Food is an experience that we all share, so it's no wonder that we connect and meet people through bite-sized moments. In this article I'll show you the best places in Melbourne where you can get traditional Singaporean hawker center food that will absolutely reek of nostalgia. Whether it's a Malaysian dish, an Indian treat, or a Chinese delicacy, you'll find the best Singaporean food in Melbourne in this list.

Roti – Roti Road 189–193 Barkly Street, Footscray
One can never forget the moment they first tried roti with its deliciously crispy crust hiding its soft center. Roti Road is a celebration of the best traditional Malaysian food, infused with Chinese flavours. Located at 189–193 Barkly Street, Footscray this restaurant aims to serve only the most authentic Malaysian dishes. Walking this Roti road will take you on a stroll down memory lane.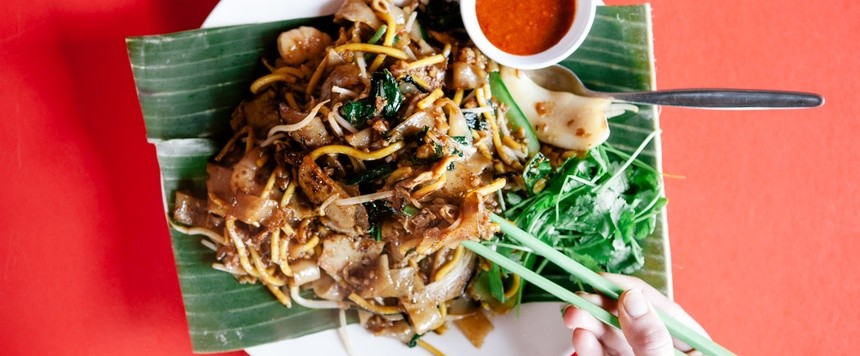 Char Kway Teow – The Old Raffles place 68–70 Johnston Street, Collingwood
How does a dish literally named 'stir-fried ricecake stripes' become so popular? Who knows, but as far as we can tell Char Kway Teow still remains one of Singaporean's most favorite dishes. With its mouthwatering aroma of dark soy sauce, one can never live too long without going back to this classic Penang hawker dish. The Old Raffles Place, located at 68–70 Johnston Street, Collingwood will give you this experience and much more.

Nasi Lemak – Nasi Lemak House 115 Grattan st, Carlton
Who can forget the fragrant smell of rice cooked in coconut milk. With its large selection of Ikan Bilis, nuts, fried fish, cucumber, and egg, the only real choice is what you should eat first! Traditionally served in a pandan leaf, this savory dish can be eaten during lunch or dinner at the Nasi Lemak House 115 Grattan st, Carlton.

Chicken Rice – Mr Loys Puff 452 City Road, South Melbourne
Another hawker food favourite, Hainanese chicken rice is a simply made dish of chicken poached in rich stock filled with ginger, onion, and garlic. Then served on a warm and steamy bed of rice with cucumber slices, coriander and chili and soy sauce. Hidden in South Melbourne is Mr Loys Puff, which serves some of the best and most authentic chicken rice you'll find this side of the hemisphere at 452 City Road, South Melbourne.


Mee Goreng – Mamak 366 Lonsdale Street, Melbourne
Don't be surpised to see a line snake its way down Lonsdale street when you get a whiff of the sweet aroma of mee goreng at Mamak at 366 Lonsdale Street, Melbourne. This clean and minimal version of this popular dish aims to bring out the rich and deep flavour of its ingredients. Bring back those memories when you see the open kitchen where cooks stretch roti wide and thin.

Kaya Toast with Eggs – Killiney Kopitiam 114 Lygon st. Carton, Melbourne
We couldn't finish this list without including something sweet, and nothing matches the sweet coconut flavour of Kaya Toast. Served with two soft poached eggs just waiting for you to dip that toast, this classic dish should be the only real option for breakfast. Head down to Kiliney Kopitiam at 114 Lygon st. Carton, Melbourne and enjoy a nice black kopi to finish your meal.
Are you a Singaporean or ex-Singaporean?
The Merlion club connects Singaporeans in Melbourne and Australia. the Merlion Club aims to foster fellowship and business networking among Singaporeans/former Singaporeans and their families in Australia and friends of Singapore. Come join us!